Request Free Consultation Today
Millions of Americans are missing all their teeth in at least one jaw and use dentures. Countless people also live with broken down and infected teeth. While some people get by okay like this, many suffer from painful, loose, and unattractive teeth or dentures which can cause speech problems and difficulty in chewing. This sometimes causes individuals to not eat appropriately and even withdraw from society.
Here at Matheson Dentistry, we are at the forefront of eliminating this problem by offering a life-changing procedure called Teeth-In-A-Day (aka All-On-4, Teeth Express, or fixed hybrid dentures).
People have come into our office and in one day eliminated their broken down, infected teeth, or their loose and the uncomfortable denture and replaced it with beautiful, fixed teeth that don't come in and out at night.
We at Matheson Dentistry never get tired of seeing lives changed for the better when people receive this world-class procedure. Here are some before and after pictures of people who have received this amazing treatment at our office: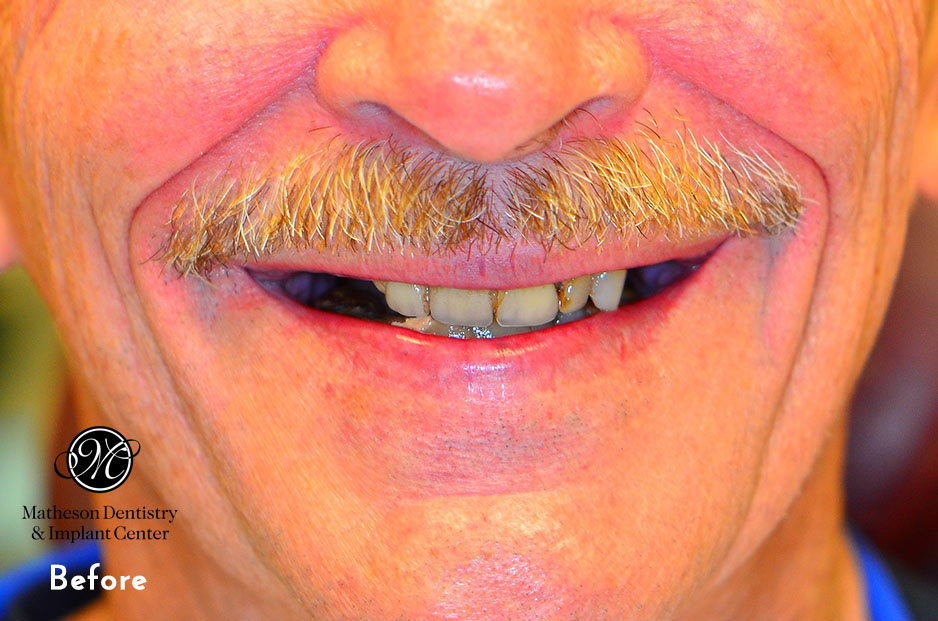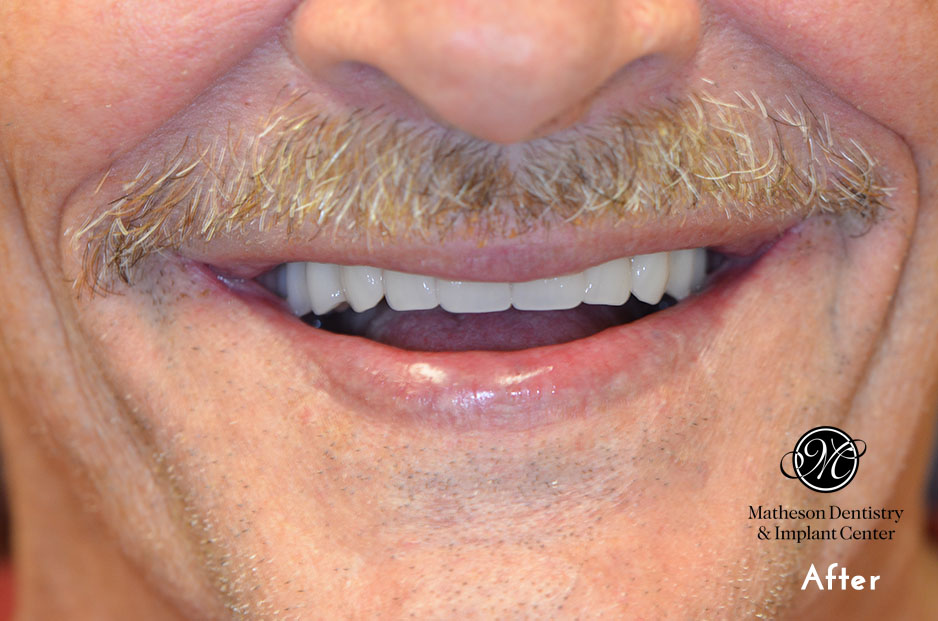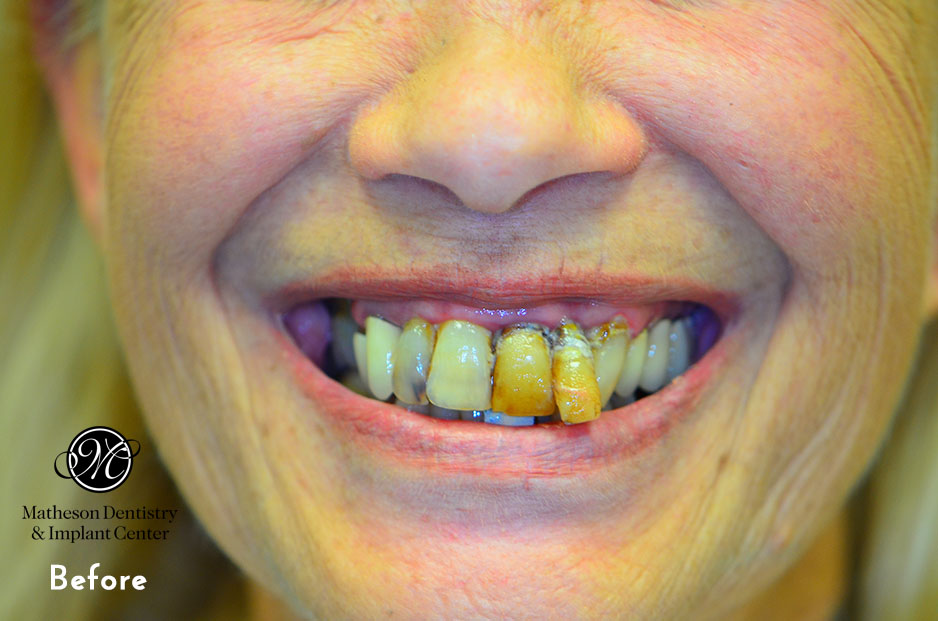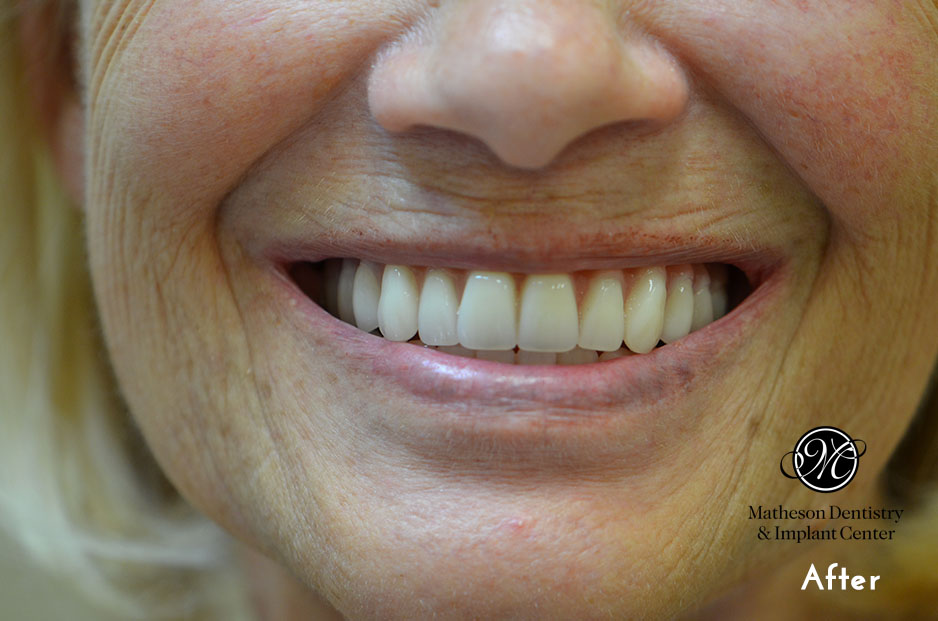 A beautiful smile is definitely something everyone would wish for. Being able to smile open-heartedly without having to worry about oral issues such as missing teeth, malocclusion, discoloration, damage, wear, etc. would be such a major confidence booster. Through the excellent advancements in the field of dentistry, we are able to bring so much more to the table that helps our patients get the smile they've always been looking forward to!
Imagine being able to get rid of all your oral issues in just one day and getting all new teeth that are just perfect! It sounds impossible, doesn't it? Our dental practice now offers patients teeth in a day service by which patients can restore their lost or damaged teeth within a single day. With the new All-on-4 dental implants, an entire ridge of teeth can be replaced with prosthetic ones in a single visit to the dentist's office. Unbelievable, but true!
What are dental implants?
Dental implants are metal, screw-like dental appliances that are inserted into the jawbone to serve as prosthetic tooth roots. They are inserted in the place of the missing teeth after making a hole in the jawbone. The replacement tooth-like prosthesis can be mounted on them and secured in place using dental adhesives.
Get your teeth replaced in a single visit
When you visit our practice, we would conduct a visual screening and take X-rays and scans to understand the condition of the teeth. Based on the observations, we would draw out a customized treatment plan to go ahead with. The exact positioning of the implants will be mapped out. A total of four implants would be sufficient per jaw to house all the teeth. The unwanted teeth will be extracted under the influence of local anesthesia and dental implants will be placed in the jawbone.
After this, you can comfortably rest in our office while we go ahead and fabricate the prosthetic teeth. By sometime during late noon, the fabrication of the teeth would be completed. We would place them on the implants and make sure they are firmly fixed in position. The bite will be checked to make sure they aren't uncomfortable. The aesthetics could be improved by polishing the teeth. By evening, you could be on your way home and have dinner like you always do. It's as simple as that!
Why should you choose All-on-4?
The healing period is minimal.
The time taken to complete the entire procedure is very less compared to other methods of teeth replacement.
The success rate of the procedure is high.
Only 4 implants would suffice to replace the teeth of an entire dental ridge.
The facial aesthetics would see a drastic positive change as the cheeks and chin would look fuller. Also, patients getting All-on-4 tend to look much younger.
The rate of jawbone deterioration would reduce significantly as the implants hold it intact.

Get best quality teeth in a day dental treatment from Matheson Dentistry & Implant Center in Queen Creek, AZ. Book now!